Click on an image to view larger version & data in a new window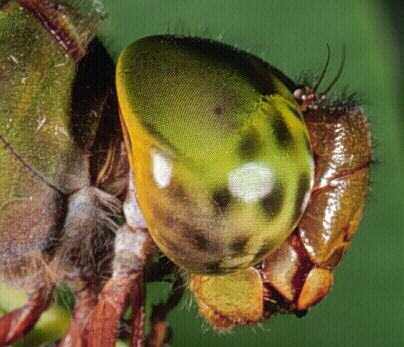 Head of Gynacantha dobsoni, a crepuscular (dawn and dusk) aerial hunter.
Photo Stephen Richards. Copyright © 1997 Stephen Richards.
Adult Odonata possess extremely acute eyesight. Note the complex structure of the eye with different-sized facets in different regions of the eye. These facets differ in both their light-collecting capabilities and spectral sensitivities. The dark spots on the eye are 'pseudo-pupils', physically separated parts of the eye which are 'looking' at the camera. The image is processed in giant 'optical-lobes' lying behind the eye's surface.
Note also the simple ocelli at the base of the bristle-like antennae. Ocelli have good light-gathering power and are used in maintaining flight orientation and stablity.